There are a bunch of Candidates running in District 7. Below are their names and links to their webpage, Facebook page or any other information I could find and something about them, if I know anything.

Clint Camp: He supports the Robert Mendez's proposed 16% tax hike. link. link.
Stephen Downs:He has the screwy idea the companies have to get city permission before they are allowed to move here. link,
Daniel Fitzpatrick: No info found.


Jacob

Green: No info found.


Stephanie

Johnson:

No info found.



Randy Reed: He is a retired police officer. He unsuccessfully ran for this office in 2015. See Is a dirty cop the kind of person who should serve in the Metro Council.

District 7 is the District in East Nashville currently represented by Anthony Davis. For District information, follow this link.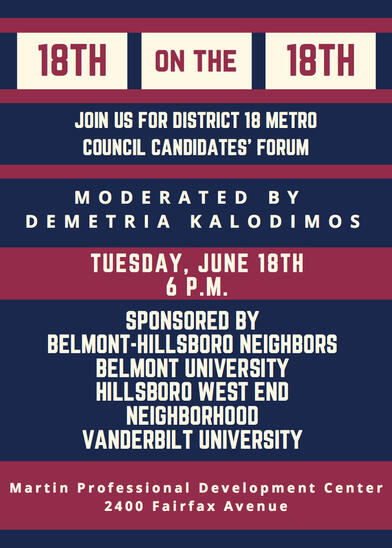 Two candidates running in the 18th District.
Tom Cash: Endorsed by the local chapter of SEIU.Endorsed by the Central Labor Council of Nashville and Middle Tennessee Facebook page, Web page.
John Green: Facebook, web page.
District 18 is the district currently represented by Burkley Allen. It is in the Hillsboro Village, West End part of town.
Top Stories